If you're suffering from mental health problems, seeking help can be difficult. Perhaps you can't find an available therapist or, even if you can, you feel anxious about driving to a clinic and meeting someone new. Well, mental health apps are here to the rescue!
Or are they?
With AI technology, the ability to connect digitally with hundreds of licensed therapists, and a ton of features, these apps claim you can improve your mental health in the privacy of your own home.
But are these claims true? Can you actually improve your mental health by using an app?
This is what we're going to discuss in this post. We'll look at:
The many ways technology has changed the mental health industry
What research says about mental health apps
And finally, six of the top mental health apps you can download today on your iPhone and Android.
So, let's begin.
3 Technological Feats in the Mental Health Industry
Before moving further and looking at whether cell phone apps truly help with mental health problems, let's look at how technology has revolutionized the mental health industry so far.
A Doctor-Prescribed Video Game: EndeavorRx
Video games have ever been thought of as an activity to help save people from boredom. And they certainly do a great job of it. On a lazy Sunday, simply fire up a video game, and you won't feel the hours passing by.
But video games are now becoming much more than just a pastime activity. Just in 2020, the United States Food and Drug Administration (FDA) approved EndeavorRx, a mobile game, to be prescribed for children with ADHD.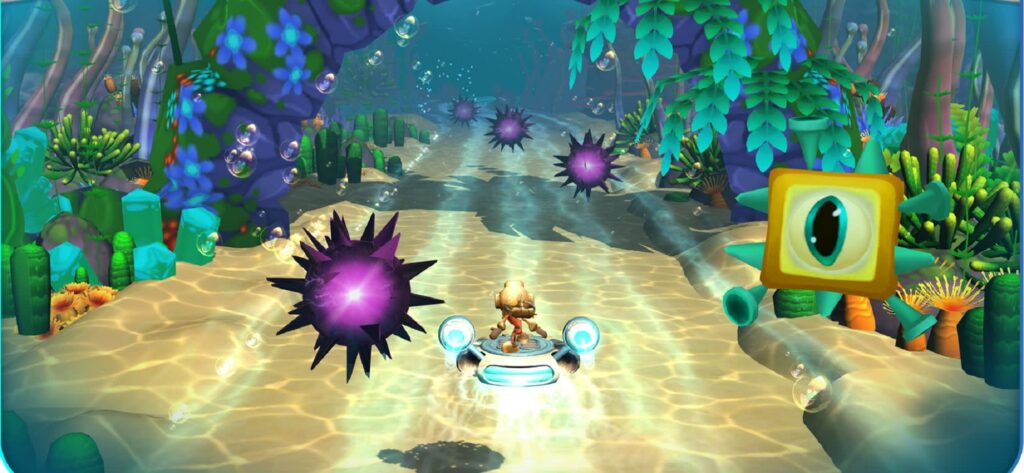 "The EndeavorRx device offers a non-drug option for improving symptoms associated with ADHD in children and is an important example of the growing field of digital therapy and digital therapeutics," said Jeffrey Shuren, M.D., J.D., director of the FDA's Center for Devices and Radiological Health. "The FDA is committed to providing regulatory pathways that enable patients timely access to safe and effective innovative digital therapeutics."
This futuristic-sounding treatment had been in the pipeline for years. It's designed for children ages 8 to 12 suffering from ADHD.
EndeavorRX challenges its young patients to focus on multiple tasks simultaneously within the game. Forbes says that "it's an exciting example of a technological tool that harnesses modern kids' natural habits to drive measurable improvements in their mental health."
AI-Assisted Therapy
A research study conducted in Pakistan found that AI can be an effective tool for anxiety measurement, analysis, and diagnostics.
This study consisted of ten participants aged 20-50 years, with motion sensors attached to their bodies to detect behavioral signs of anxiety.
The researchers focused on specific behaviors like nail-biting, knuckle cracking, and hand tapping to detect anxiety, and they found their AI analysis to be over 92% correct.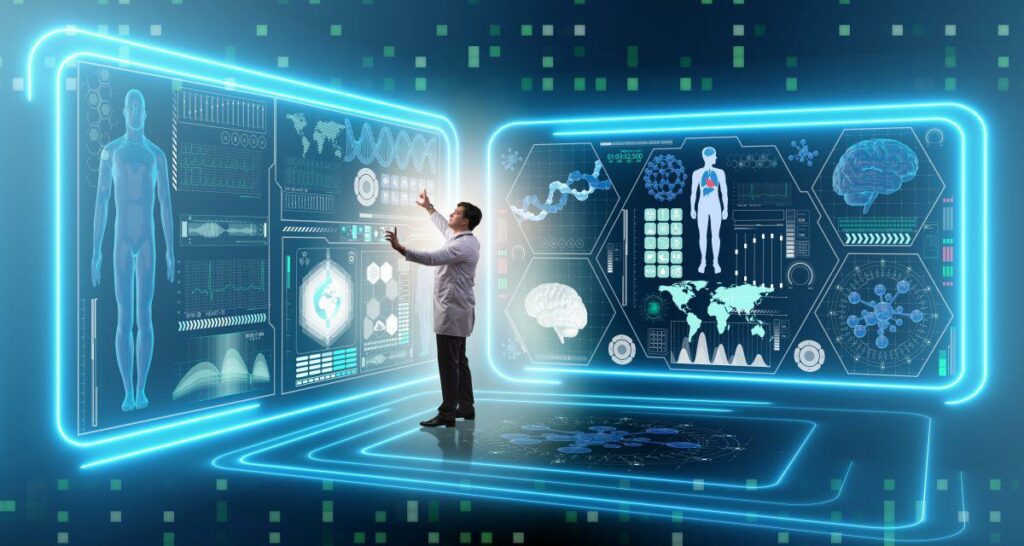 "A major takeaway from this research is that we can safely and conveniently use artificial intelligence (AI) to provide measurement, analysis, and diagnostics for anxiety," said social psychologist and researcher for this study, Gulnaz Anjum, Ph.D. "We are working with a higher number of human participants to establish comparisons, but the initial research provides a safe, non-intrusive, non-subjective, and accurate way of measuring anxiety."
Enter your email address below and we'll send you a link to download a copy of our FREE Healthier Tech guide.
Today, anxiety disorder is one of the most prevalent medical conditions, affecting 30% of the adult population. And experts suggest that this condition can greatly benefit from the use of artificial intelligence.
"We are hoping that as more work is done on this technology, we can assist in the development of more reliable data for clinical research and practitioners," Anjum says. "The ultimate objective of this study is to enhance people's mental health by identifying and treating anxiety problems."
VR For Mental Health
There are three main ways in which VR is transforming mental health treatment.
"In-situ" coaching
Psychologists say that the most successful therapeutic interventions help people modify their thoughts, behavior, and reactions in the very situations they find the most challenging.
For example, many people suffering from anxiety have problems going to everyday places like social events and supermarkets.
And what better way to improve your anxiety levels than to repeatedly put yourself in that situation?
This is called state-dependent learning, and it requires people to face what they find the most challenging, which helps them improve.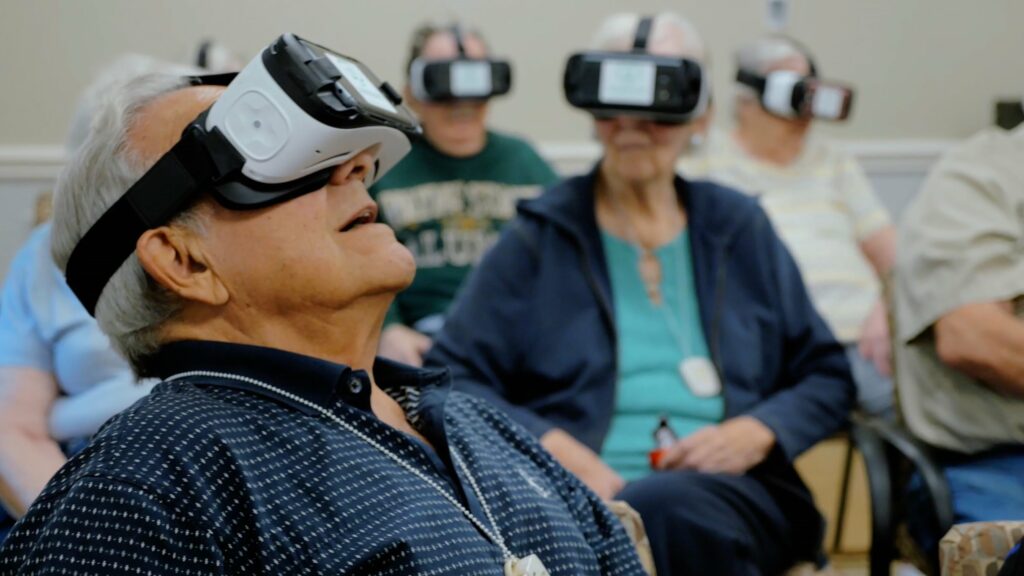 In our current mental health space, such active in-situ coaching rarely happens. But with VR, this is now possible.
VR can create realistic simulations of real environments where you can work around and interact with people as if they were real. And although we know that the environment isn't real, our unconscious brain responds to it the same way it would to the real-world environment.
As a result, anything we learn in VR, we can bring back to the real world.
Researchers from the University of Oxford confirmed this in one study of 30 patients who were suffering from severe paranoid beliefs and fear of real-world social situations.
After a single session, the researchers found that their conditions alleviated by about 50% after just a single VR coaching session.
Flexibility
VR provides flexibility. A person suffering from anxiety may not agree to enter the situations that make them anxious in the real world. But with VR, it gives them a sense of security and a safe space.
And unlike in the real world, you can repeatedly face things that make you anxious without any problems.
The flexibility of VR also means it can be adapted to help treat a range of mental health problems like phobias, PTSD, social anxiety, depression, eating disorders, psychosis, and addiction.
Automation
And finally, VR can help automate therapies with the help of AI. You can have a virtual coach who can help you understand the treatment and explain the techniques for you to try out.
Also, continuous improvements to VR hardware means that it will soon become increasingly affordable and feasible to use in mental health services. This will reduce the cost of therapies and potentially make it easier for people to try out therapy.
Are Mental Health Apps Effective
Looking at the evidence so far, it's clear that modern technology gels well with the mental health industry.
But because apps are the most common tool currently in use for mental health, and phone use has various well-established downsides, the question remains—can cell phone apps really help with your mental health problems?
How Can Cell Phone Applications Help with Your Mental Health?
There have been many research studies on the efficacy of mental health apps, and most of them reported improved outcomes in their subjects.
"Mobile apps have significant potential to deliver high-efficacy mental health interventions. Given the global shortage of psychiatrists and the lack of mental health care access in rural regions, apps have emerged as a viable tool to bridge the mental health treatment gap," says a research study from Harvard University. "Technology is well-poised to transform how mental health treatment is delivered and accessed, but this transformation requires the combined mobilization of science, regulation, and design."
However, right now, research on the efficacy of mobile apps on mental health treatment and the apps themselves are in their infancy.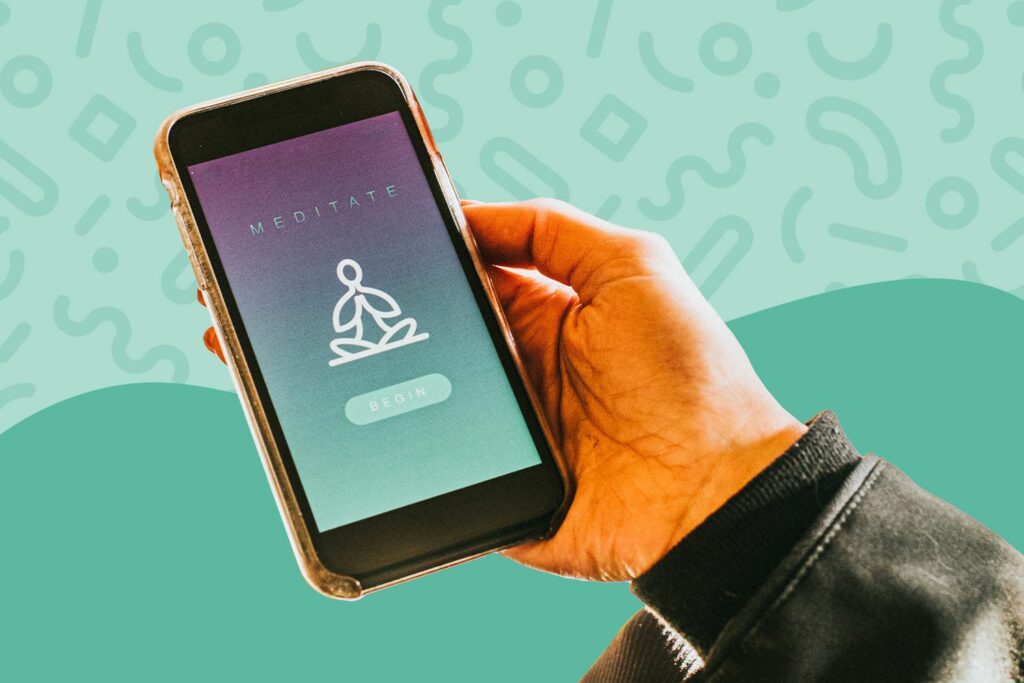 Here's how Harvard Health Publishing explains this:
"Low-touch interventions like mobile apps may help get you through a rough time, or at least help increase your symptom awareness. Will it treat your depression? Probably not, but it may help if you believe in it."
So, here are six such mental health apps that can complement your improvement efforts.
Note: Healthier Tech has no relationship with any of the apps mentioned in this article.
Moodfit: For Overall Mental Health
Moodfit is a free mental health app that contains tools and insights to help "shape up" your mood.
Says the company, whether you're looking to better understand your feelings or experiencing stress, anxiety, or depression, Moodfit can help you improve.
The best thing about this app is that it gives you a questionnaire that will assess the severity of the symptoms and suggest activities accordingly to help you get better.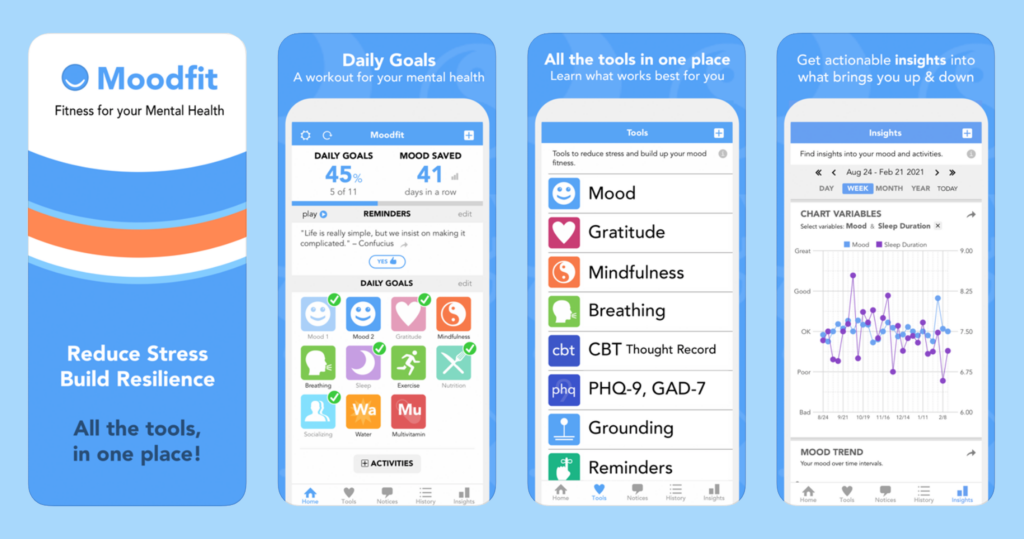 Besides that, it also has a symptom tracking feature, which offers actionable insights into what affects your mood and what you can do to feel better.
Its cognitive behavioral therapy (CBT) portion is also a significant highlight. It can teach you how to dispute overly negative thoughts and helps you mold your thinking patterns.
You can download this app from both the play store and app store.
CBT-i Coach: For Insomnia
CBT-i Coach is from the US Department of Veteran Affairs, and this app is designed for people engaged with a health provider in Cognitive Behavioral Therapy for insomnia.
We all have struggled with sleepless nights at least once. CBT-i Coach helps you learn about sleep, develop positive habits, and improve your sleep environment.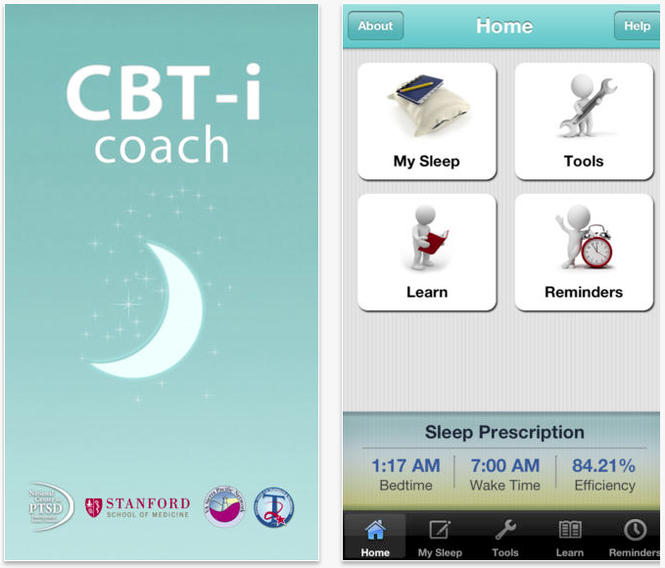 Besides that, it also provides a structured program designed to teach you strategies that are proven to improve sleep and help alleviate insomnia symptoms.
Again, you can find this app on both Google Play and App Store.
Enter your email address below and we'll send you a link to download a copy of our FREE Healthier Tech guide.
Sanvello: For Stress Relief
Sanvello provides cognitive behavioral therapy (CBT) tools to help treat anxiety and depression. Although there's a free version of this app, you'll have to pay $8.99 per month if you want to access its premium version.
But the upside is, it's heavily research-backed, and its costs may be covered by your health insurance provider.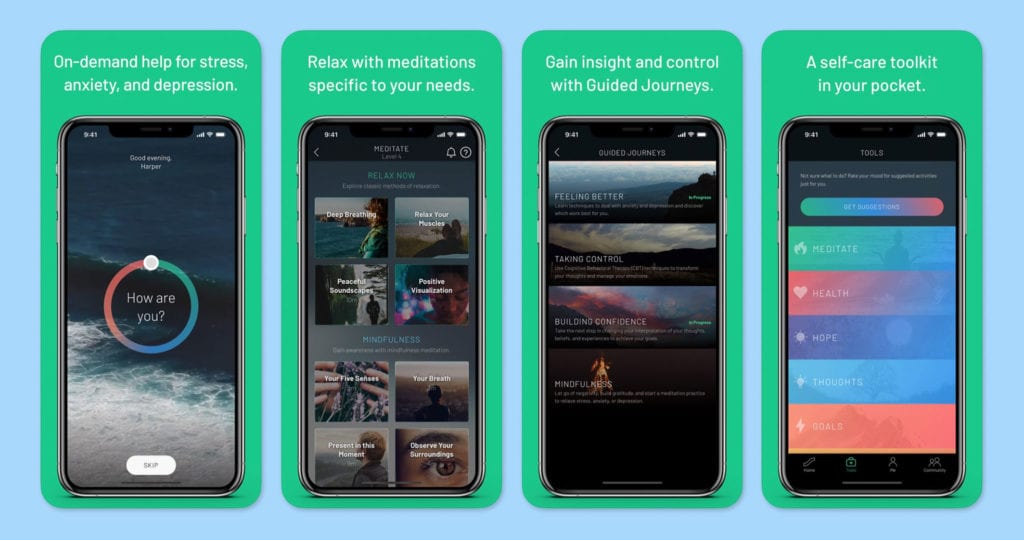 In a randomized study of 500 adults suffering from mild to moderate anxiety and depression, the tools in Sanvello were shown to alleviate symptoms.
Calm: For Meditation
Since its launch, the Calm app has been downloaded over 120 million times by both iOs and Android users. This is one of the best apps in the market for meditation, per reviews.
Calm makes meditation easier by offering a ton of guided audio classes and programs covering breathing exercises, relaxation, improved sleep, and mindful movements. Besides that, it also has a huge library of relaxing sounds and music that you can play while you meditate or try to nod off to sleep.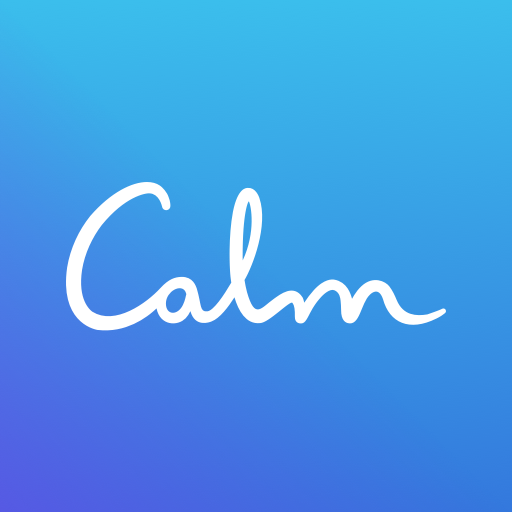 This app is geared towards beginner meditators and is also great for advanced meditators.
Although this app has a free version, you can also buy its premium membership for around $70 per year.
Happify: For Fun
If you're looking for a fun app to keep you engaged while simultaneously boosting your mood, you will like Happify.
This app is all about playing games. But each game is a science-based activity designed to reduce stress, overcome negative thoughts, and build resilience.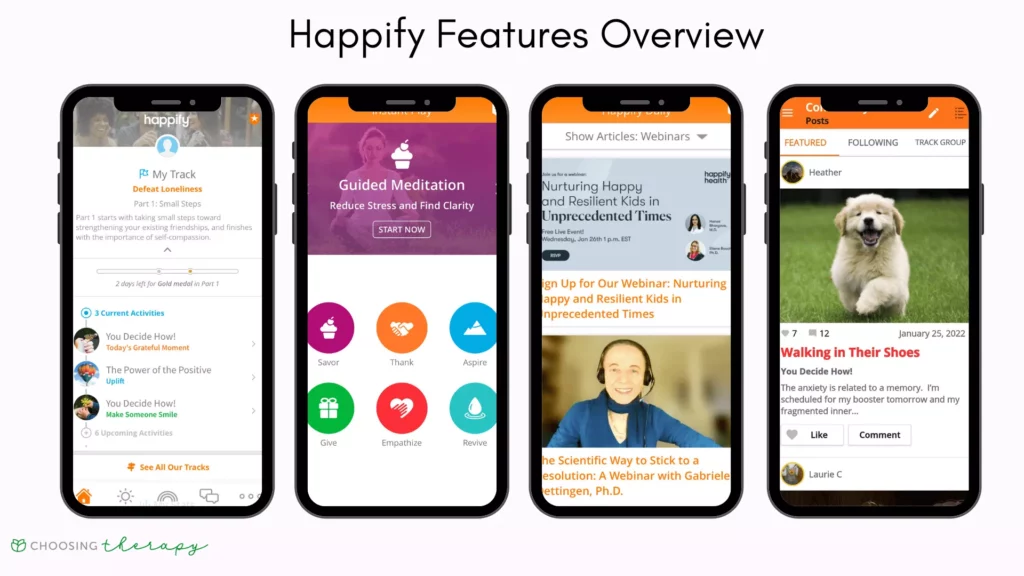 The activities in the app are designed by psychology experts. And while the ultimate goal is to make you happier, the app lets you decide your own track. For example, you may want to:
Cope better with stress
Fuel your career success
Achieving mindfulness
Conquer negative thoughts
Or build self-confidence
There's a little something for everyone.
There is a free version of this app, but you can also buy their premium service starting at $14.99 monthly.
Bearable: For Symptom Tracking
Symptom tracking is one of the most important aspects of improving mental health. And tracking mental illness symptoms and your moods can sometimes be frustrating.
You have to write what you're feeling, and sometimes you may not even know how to express it.
To help you with this, Bearable features a simple, uncluttered design with a list of symptoms you can choose from.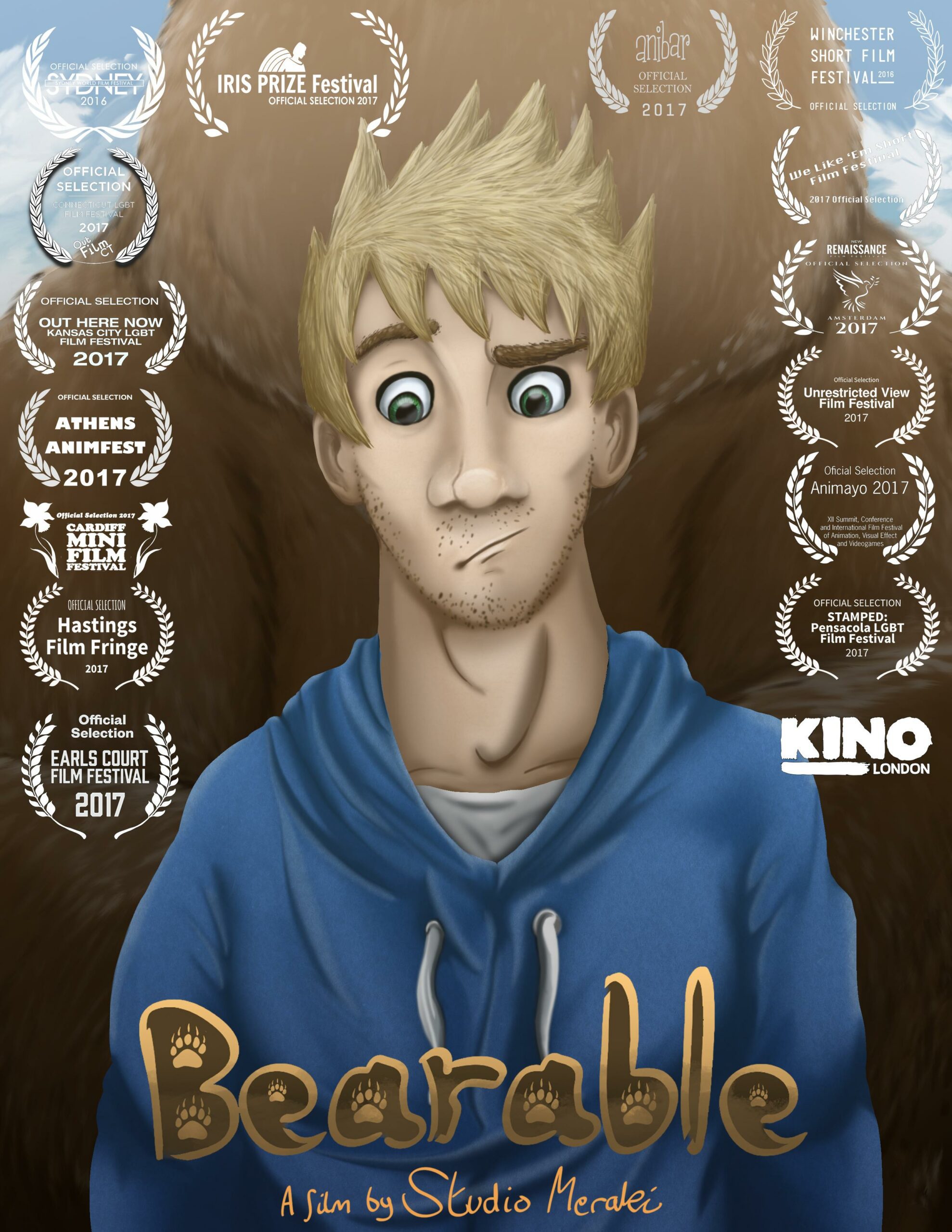 And its abilities don't end there. Besides tracking your mental health symptoms, you can also track your meditations, exercise, sleep, food intake, and social interactions in the app.
If you have an Apple Health Kit and an iPhone, you can connect this app to your device for better features.
Bearable uses AI to analyze your moods, and it shows you how certain activities impact your mood over time. It gives you a simple, handy chart to show your doctor so they can better track your patterns and decide the best treatment plan.
The basic version of this app is free. But you can also get their monthly premium subscription at a cost of $4.49 and an annual subscription of $27.99.
Final Thoughts
As I said above, mental health apps aren't some magic pill that will solve your problems instantaneously. They're tools to support you through your mental health improvement journey. If your condition is worsening, we recommend seeking professional help.
Remember, taking care of your mental health is just as important as working out for your physical health. So, take control of your own mental well-being by trying out different solutions and exploring what works best for you.
Also, visit The Healthier Tech Podcast, which has a huge panel of experts sharing tips on optimizing your tech use to extract more benefits for your physical, mental, psychological, and emotional health. We're available on all major platforms.